Car Wash/Detail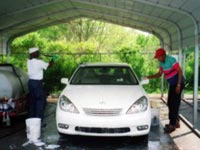 You can have your car washed and detailed while you Fly Away. No more waiting in the long line at the local car wash places on your days off. When you come home your clean vehicle will be waiting for you to hit the road.
When you want this service, simply complete the "Car Wash" Forms linked below and hand this to our Valet greeter when you arrive and they will take care of you.

Copyright (c) 2015 Fly Away Parking. All Rights Reserved.
Powered by